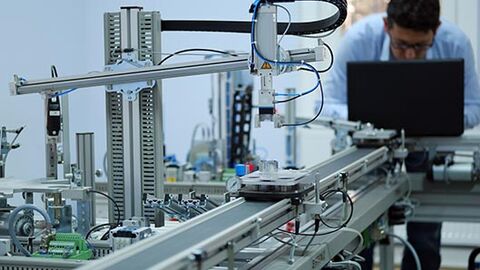 Alternation
Do you want to join us and would like to do your training in a sandwich ? INSA Hauts-de-France offers a range of apprenticeship or professionalization contracts.
Between studies and business
Alternative training is a training system that combines theoretical teaching provided by a training center and practical training during periods in a company. This training system is a gateway for students that allows them to better understand their future professional insertion.
Prepare for a degree while gaining experience
In contrast to initial training, work-study programs allow you to already have extensive experience in the targeted sector with contracts of at least 6 months.
Develop skills even before entering the job market
Many students have little or no experience once they graduate. With work-study training, it is an opportunity to stand out and reassure the recruiter thanks to experience and a real background in business.
Be paid while preparing a degree
The work-study student is paid each month based on a grid that takes into account the following information : age of the work-study student, type of contract and whether it is a first, second or third year of the contract.
No tuition fees to be paid
The tuition is paid for by the company, so you won't have to spend anything on it.
As a work-study student you benefit from a dual status  you are both a student and an employee. You will therefore benefit from paid vacations, travel expenses...
Two contracts
There are two types of contracts  the apprenticeship contract and the professionalization contract. Each of these contracts has specific clauses.