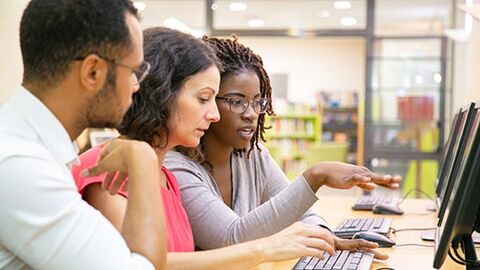 Lifelong Learning
You have a project or you are aiming for a Bac+2, +5... INSA Hauts-de-France accompanies you in your projects.
Resumption of studies
Employees or job seekers
INSA HdF accompanies you in your projects of reconversion and increase in skills.
Obtaining a diploma through Continuing Education by using the Validation of Professional Experience and the Validation of Experience (if necessary) : our teams accompany you throughout the process, from the analysis of your needs to the realization of adapted solutions.
Contact : formation.continue@insa-hdf.fr
Information meetings on returning to school
If you would like to learn more, we offer information meetings. We will provide you with answers to all your questions about going back to school.
Information meeting schedule :
January 29, 2022 - all day in person
February 23, 2022 - starting at 5:00 pm
March 23, 2022 - starting at 5:00 pm
April 13, 2022 - starting at 5pm
To register please send an email to @email indicating the meeting you are interested in.
For more information feel free to check out our article (link to article " You want to go back to school or reorient yourself ? ")