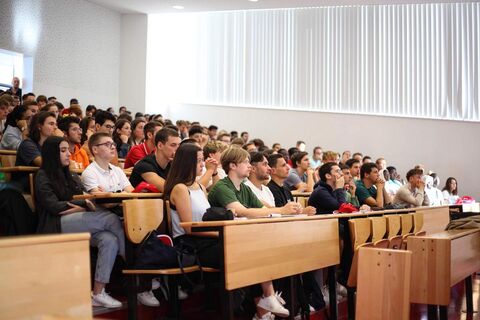 Discover our training courses!
Interested in the sciences? Find the education of your dreams!
Based on 3 campuses (Mont-Houy, Cambrai and Maubeuge), we offer more than 50 state-recognized training courses ranging from BAC+2 to BAC+8 (Deust, Bachelor's degree, Master's degree, Engineering cycle, Master's degree, DRTu) in initial training and work-study.
Our fields are diverse and varied: transportation and mobility, the industry of the future, computer science, physics-chemistry or even sports... A multitude of sciences are taught here!
Sur le campus du Mont Houy près de Valenciennes mais aussi à Cambrai et Maubeuge, l'INSA Hauts-de-France propose + de 50 formations allant de BAC+2 à BAC+8 (Deust, Licence, Licence Pro, Master, Ingénieur, Mastère, DRTu, Doctorat) en formation initiale et en alternance.
Nos domaines sont divers et variés : les transports et la mobilité, l'industrie du futur, l'informatique, l'audiovisuel, la physique-chimie ou même STAPS ! Une multitude de sciences y sont enseignées !