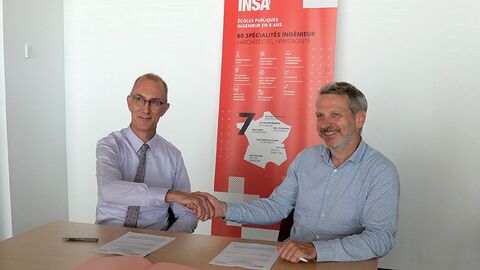 INSA Hauts-de-France and Alstom, Valenciennes site, have signed a renewed partnership agreement.
The priority objective of this commitment is to strengthen school-business initiatives and develop effective, long-term school-business relations.
A win-win partnership
The company and the institute have agreed to develop joint or concerted actions to bring together INSA Hauts-de-France's academic offering and the industrial demand of the Alstom Valenciennes site in the institute's areas of expertise.
Developing Alstom's employer brand
The aim is also to raise the rail manufacturer's profile among students, graduates and alumni, as well as faculty for the benefit of developing joint projects.
Recruiting future talent
As INSA Hauts-de-France is one of the preferred partnerships selected by the Group in France, Alstom's Valenciennes site is committed to promoting employment opportunities, internships and work-study programs, and participating in the institute's events (recruitment forum, jury, mock interviews, etc.).