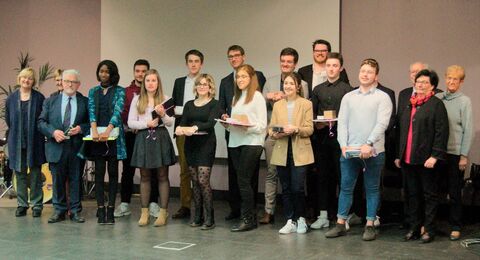 ELOQUENCE CONTEST organized by the Valenciennes sector
The A.M.O.P.A (Association of Members of the Order of Academic Palms) - Valenciennes sector, organizes the 21st edition of the eloquence contest.
This competition is open to students holding the BAC or DAEU, up to and including BAC + 5, attending higher education institutions in the Nord department and in particular in Valenciennes.
Three prizes will be awarded in the form of grants:
1st prize: €500
2nd prize: 300 €
3rd prize: €200
Literary, scientific, art books, theater tickets, cinema tickets etc., will be awarded to the twelve finalists.
2 dates to remember: the selection will take place on April 5, 2023 at 4pm and the final will take place on April 12, 2023 at 4pm in Valenciennes.
For more information, feel free to visit the A.M.O.P.A website or contact Annie SPRATBROW or Bernard DESMET by email (@email / @email)
Ce concours est ouvert aux étudiants titulaires du BAC ou du DAEU, jusqu'à BAC + 5 inclus, fréquentant les établissements d'enseignement supérieur du département du Nord et en particulier à Valenciennes.
Trois prix seront décernés sous forme de bourses :
1er prix : 500 €
2ème prix : 300 €
3ème prix : 200 €
Des ouvrages littéraires, scientifiques, d'art, des places de théâtre, de cinéma etc., seront décernés aux douze finalistes.
2 dates à retenir : la sélection se fera le 5 avril 2023 à 16h et la finale aura lieu le 12 avril 2023 à 16h à Valenciennes.
Pour plus d'informations, n'hésitez pas à consulter le site de l'A.M.O.P.A ou à contacter Annie SPRATBROW ou Bernard DESMET par mail (@email / @email)