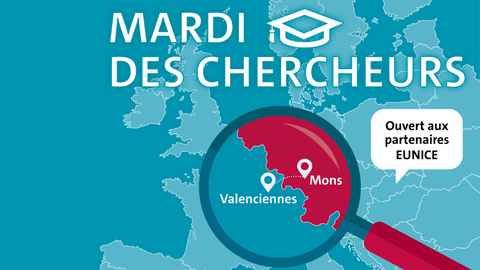 Researchers' Tuesday
The Université Polytechnique Hauts-de-France is organizing the 2023 edition of Researchers' Tuesday on June 13, in collaboration with the Université de Mons.
The "Matinée des Chercheurs" was created by the Faculté Polytechnique de Mons in the early 2000s. The success met by this event made it evolve to another format, on a full day, the "Tuesday of the Researchers"
Since 2015, the Université Polytechnique Hauts-de-France joined the adventure with the aim of strengthening its collaborations with the University of Mons. The event is thus organized, in turn, by the two institutions. The UPHF was responsible for organizing the 2016 event on the Mont Houy campus, followed by the 2018 event on the Arenberg Creative Mines site. The 2021 edition took place entirely online due to the health context (the 2020 edition having been cancelled).
Researchers' Tuesday is a scientific event that brings together research actors(teacher-researchers, researchers, PhD students, engineers, assistants, etc.) from different disciplinary backgrounds (from Human Sciences to Mathematics, to Engineering Sciences).
This meeting allows to create a place of privileged exchange, to discover the research conducted by colleagues and also to trigger collaborations between people, departments or institutions.
This year's event is open to all members of partner institutions EUNICE (European UNIversity for Customised Education), of which UPHF and UMons are part.
PhD students and teacher-researchers wishing to participate in this day by proposing or not a scientific poster are invited to register on the Researchers' Tuesday website.