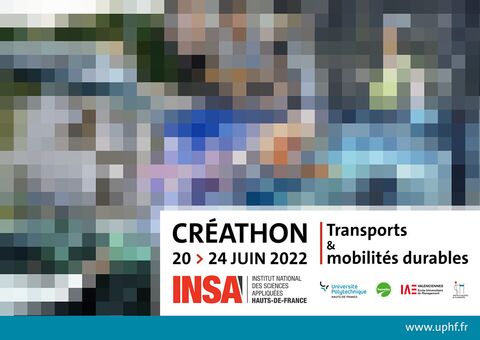 Créathon 2022: 5 days to innovate in the field of transport and sustainable mobility
From June 20 to 24, 2022, our third-year engineering students are going to be asked to participate in this Creathon, an essential part of their training in innovation and creativity. We explain it all to you!
The Creathon: What is it?
A true marathon of creativity, the Creathon consists in an intensive week of challenge during which students are led to bring out an innovative proposal of products or services in relation to a given theme.
Grouped into several project-teams and supervised by numerous teachers and experts, the students thus manage, at the end of these five days, to present their innovative proposal in front of a set of juries formed in part by professionals, entrepreneurs and actors of the economic world.
At the very end of the Creathon, four finalist teams are selected to participate in a Grand Jury that may lead one of these teams to continue their adventure by receiving the necessary assistance to develop their idea.
Créathon 2022: a topical theme and a partner of choice
This year, the theme of the Creathon is sustainable transport and mobility and will be particularly supported by the Transalley technology park, a real ecosystem dedicated to transport and mobility players in Hauts de France and with many infrastructures from which students will be able to benefit.
Immersion in the world of transport and sustainable mobility
In order to prepare our students for the challenges of transportation and sustainable mobility, an immersion course on this theme awaits them from March 3 to June 2, 2022.
Set up in partnership with Transalley, it includes a whole series of workshops of the mobility fresco (https://fresquedelamobilite.org) as well as meetings with Transalley actors around different themes such as connected vehicles, road safety and soft mobility.
By subscribing to our Instagram account @insahdf, you will be able to accompany our students throughout this immersion and thus participate in the progressive unveiling of the Creathon 2022 poster, reflecting the different specialties of INSA Hauts-de-France put here at the service of transport and sustainable mobilities.