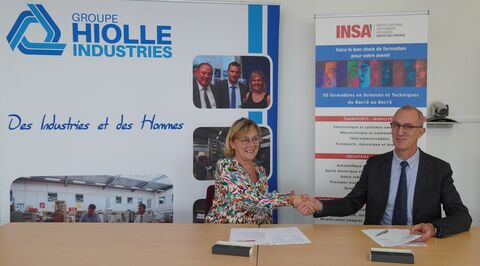 INSA Hauts-de-France signs a new partnership with HIOLLE Industries
Six months after our meeting with Véronique Hiolle (sponsor of the INSA Hauts-de-France Masters 2021 graduation), INSA Hauts-de-France a partnership with the Hiolle Industries Group.
Who is Véronique Hiolle?
Véronique Hiolle is the president of the board of directors of the Hiolle Industries Group, a company founded in 1976 and based in Prouvy. Hiolle Industries specializes in industrial maintenance, boiler making, mechanical construction and in the electrical engineering trades.
Yesterday, October 27, 2022, INSA Hauts-de-France signed a partnership with the Hiolle Industries Group.
What is the partnership?
This partnership aims to strengthen the link between the schools of the territory and the HIOLLE INDUSTRIES Group and results in a joint and concerted action.

 By signing the convention, the Group commits itself in different forms :
-      𝗔𝗰𝘁𝗶𝗼𝗻𝘀 𝗽é𝗱𝗮𝗴𝗼𝗴𝗶𝗾𝘂𝗲𝘀 : by introducing students to their professions and companies, by participating in events, by leading conferences and debates, and by setting up professional meetings and company visits ...,
-      𝗔𝗽𝗽𝘂𝗶 𝗮𝘂 𝗽𝗿𝗼𝗷𝗲𝘁 𝗽𝗿𝗼𝗳𝗲𝘀𝘀𝗶𝗼𝗻𝗻𝗲𝗹 𝗱𝗲𝘀 é𝘁𝘂𝗱𝗶𝗮𝗻𝘁𝘀 : Offering internship and apprenticeship contract offers to our students but also simulation workshops for recruitment interviews,
- etc.

So many actions which contribute to the notoriety of HIOLLE INDUSTRIES Group and to the professional insertion of our students !