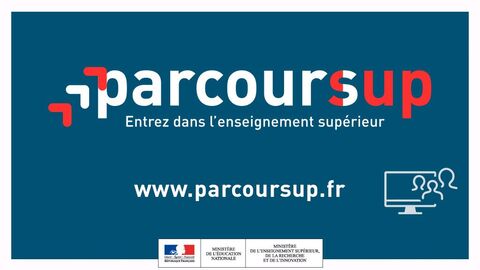 Registrations and wishes Parcoursup
Parcoursup registration and wish formulation phase starting this Wednesday January 18, 2023 afternoon.
PARCOURSUP 2023: OPENING OF THE REGISTRATION AND WISH LIST PHASE
One month after the opening of the Parcoursup.fr information site allowing applicants to consult the available training offer, the registration and wish formulation phase of Parcoursup will begin this Wednesday, January 18, 2023 in the early afternoon.
New this year,the course presentation sheets have been completely renovated to provide applicants with richer, clearer and more transparent information:
The new ergonomics allow applicants and families to quickly identify essential information, in particular: the status of the institution (public or private, distinguishing between private training under contract with the state, private higher education institutions of general interest and private training without contract), the dates of open days, or tuition fees;
A new section "Understanding Application Analysis Criteria"which details the criteria defined by faculty and that they will use in 2023 - along with their degree of importance;
New key figures on admission 2022 to allow applicants to further anticipate their admission phase, as well as insertion data.
 
All the information available on Parcoursup will allow applicants to refine their study plans.
A completely dematerialized process, Parcoursup allows high school seniors or apprentices as well as students looking for a reorientation, regardless of where they live, to apply with a single file to all higher education programs within a unified calendar. Applicants have until Thursday, March 9, 2023 inclusive to make a maximum of 10 non-hierarchical, reasoned wishes, then until Thursday, April 6, 2023 inclusive to finalize their file and confirm their wishes.This timetable is linked to the baccalaureate timetable in order to adapt to the deadlines of the final year of high school, and in particular to the date of the final exams for the specialization courses (for general and technological high schools). It thus allows for better consideration of student results, on an equal footing.
.
After the analysis of the files by teachers of higher education, applicants will receive a response for each of their wishes on 1er June 2023 and admission proposals will be sent throughout the main admission phase.
As is the case every year, high school students will receive close support from their school's educational teams. Tools and resources have been offered to the high schools, which will allow them to conduct information sessions for high school students and their parents starting this January.
Parallel to this, more than two dozen chat sessions and lives as well as a page " Our tips for formulating your vows " with tutorial videos are also offered to applicants and families. 
In addition, the assistance services of the ministries in charge of national education and higher education are mobilized and will be available from January 18 to accompany candidates and answer their questions :
the toll-free number 0 800 400 070 (accessible to the deaf or hard of hearing);
the "contact" messaging system from the Parcoursup file;