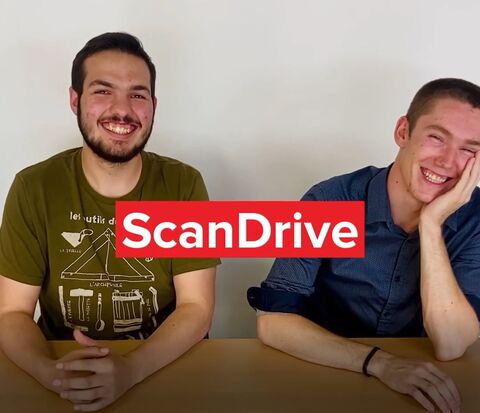 Créathon 2021: focus on the entrepreneurship award received for the Scandrive project
The 2022 Creathon has just been launched this Monday 20 June for third-year engineering students at INSA Hauts-de-France.The opportunity for us to honor the students who won the entrepreneurship prize in the 2021 edition.
What is the Creathon?
As presented on this article, the Creathon is a real creativity marathon. It is a one-week challenge during which students in their 3rd year of the engineering cycle at INSA HDF must propose an innovative solution, in terms of products or services, around a given theme.
They are divided into project teams and supervised by numerous teachers and experts. At the end of the challenge, they make a defense to present their solution. Finally, four teams are selected for a presentation before a Grand Jury.
Creathon - 2021 Edition
Thematic and partner

Last year, the Créathon inaugurated its first edition around the theme of "the silver economy", the economy of the elderly, and it was the innovation accelerator Eurasanté which was the main partner.

Among the four selected teams,  one of them was thus awarded the entrepreneurship prize by Eurasanté with access to a pre-incubation pathway to pursue their innovation project.
The winners  : Scandrive
The 2021 Entrepreneurship Award was won by the "Scandrive" project, led by Benjamin Delaire, Maxime Dalbin,Jonathan Meisse-Hauss, Lùna Sarantellis, Xiraldo Meta and Téné Thiam.
Créathon 2022 : Sustainable Transport & Mobility
Two new features this year for this new edition of the Creathon dedicated to transportation and sustainable mobility.

A immersion course from March to June allowed our students to immerse themselves in this new theme through workshops on the mobility mural and other discoveries around transportation set up by this year's sponsor, the sustainable mobility technology cluster!
Second novelty, during this Creathon, our engineering students will have the opportunity to be accompanied by students in the entrepreneurship and project management master of the UPHF university management school. A partnership that is sure to boost our students in their team cohesion, the assembly of their business model and their communication plan, all with a view to being among the four winning teams that will compete for four new prizes!
Feel free to follow us on Instagram and Facebook to follow the Creathon live from our stories. Good luck to our students!